Improving your ability to move has its benefits in getting up from the ground, reaching overhead, running, or playing sports. Here are a few ways to improve your mobility.
Stretching
We all know that stretching your muscles will help you with reaching the ground or overhead. A 2018 article on stretching suggests that stretching each major muscle group 5 minutes/week will help with gaining motion. It also suggests this should be accomplished over 5 sessions in the week. Frequent stretching and continually challenging that range of motion is key to getting these gains.
Strengthening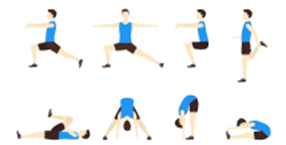 A recent research study looked at stretching vs. strength training and its effects on improving muscle flexibility and it found that there was no difference. This suggests that weight training can give many benefits to include mobility,
strength, decreased stress, and improved muscle tone. Strength training through your range of available motion may help you get down to touch your toes or reach for those upper cabinets.

Massage
Getting those muscles warmed up and full of blood typically helps you move better and that is where massage fits into this equation. There are active ways to self-massage and the feel-good way of using a massage therapist. Sometimes they will dig in deep and it may not be as relaxing, but gets the job done.
Foam Rolling
Using a foam roller for self-massage has its benefits and is a good tool. This great piece of workout equipment also can help open up your upper back if you bend over it in order to reach up high above your head. This modality shows to not have a detrimental effect on muscle performance as well.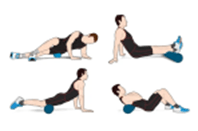 Physical Therapy
If you have trouble moving, Physical Therapy can also help. Give us a call and we can assess your ability, mobility, and flexibility. This allows us to prescribe the right plan for you.
Sources:
Cheatham, Scott W. et al. "THE EFFECTS OF SELF‐MYOFASCIAL RELEASE USING A FOAM ROLL OR ROLLER MASSAGER ON JOINT RANGE OF MOTION, MUSCLE RECOVERY, AND PERFORMANCE: A SYSTEMATIC REVIEW." International Journal of Sports Physical Therapy. 2015 Nov; 10(6): 827–838.
Afonso, José, et al. "Strength Training versus stretching for improving range of motion: A systematic review and meta-analysis." Healthcare. Vol. 9. No. 4. Multidisciplinary Digital Publishing Institute, 2021.
Thomas, Ewan, et al. "The relation between stretching typology and stretching duration: the effects on range of motion." International journal of sports medicine 39.04 (2018): 243-254.
https://www.gq.com/story/why-every-man-should-use-a-foam-roller
https://stock.adobe.com/search/images?k=dumbbell+cartoon
https://www.risephysicaltherapy.com/blog/static-vs-dynamic-stretching